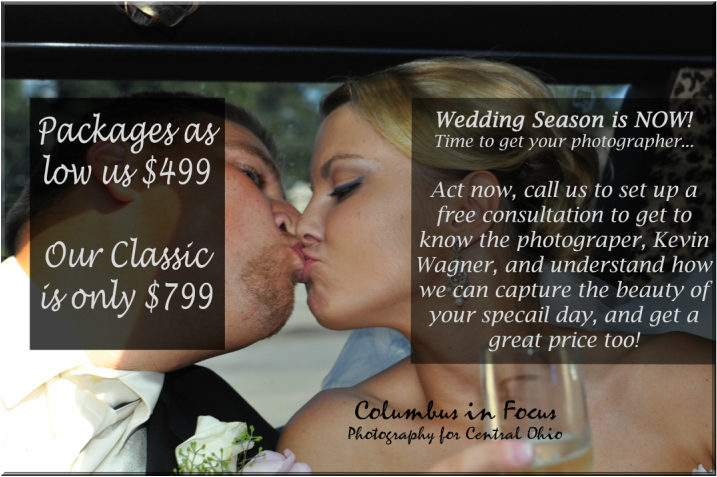 Wedding Package
Your wedding day is special. The focus of my wedding photography is to capture the events and emotions of the day with unique photographs that will help you remember your wedding day for the rest of your life.

I work closely with you to produce compelling images that capture and chronicle the events of the day in a way that is artistic and unique to your personality and wedding.

You can be assured that the photography at your wedding will be professional and worry-free and your wedding photos will stir emotions in you, your family and your friends for years to come.

I believe that high-quality wedding photography should be affordable. My wedding photography services are compatible with most any budget or wedding plan. I'm flexible - if there's something you'd like in your package, please ask.

You keep the digital files – All photographs are provided on a DVD for you to enjoy, share and select prints. The photographs are yours to keep and you may do with them as you please. These are finished photographs, not proofs. Each photograph is carefully reviewed and processed so you can be assured that each image will be a beautiful, high-quality digital photograph.
| | |
| --- | --- |
| If you are unable to view Packaging information above I have attached a downloadable copy to the right for iPhone and iPad users that can't use Flash | |
Professional Photography Services
Our specialty is event photography, shot in a creative "journalistic" manner. We shoot in an unobtrusive, story-telling style meant to reflect the individuality of you and your guests.

All of our photography packages include these great features, at no additional charge:

-You retain all your memories. You will receive a disc of your high-resolution photos. You are free to print, copy, and share your images.
-Everything that we deliver is personally reviewed by our graphic artists for color, density, and exposure.
-We will provide an online gallery of up to 20 images for you and your guests to enjoy on Facebook and our website.